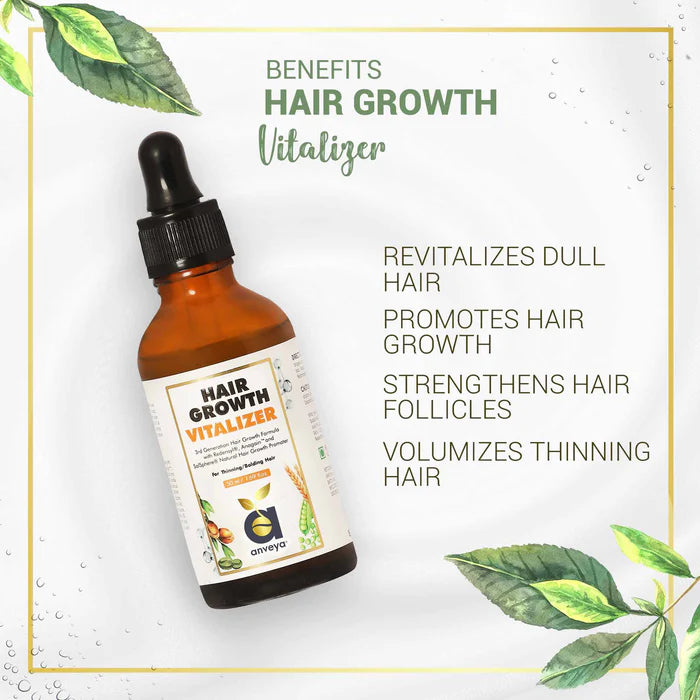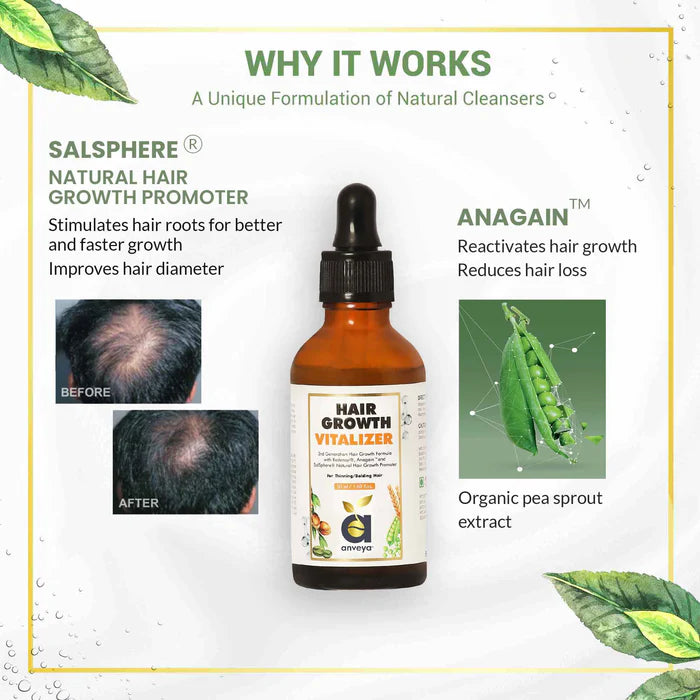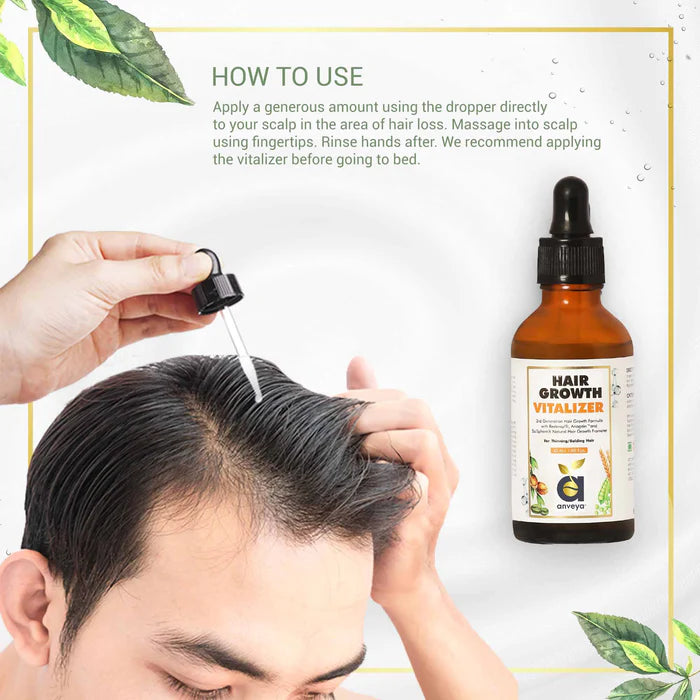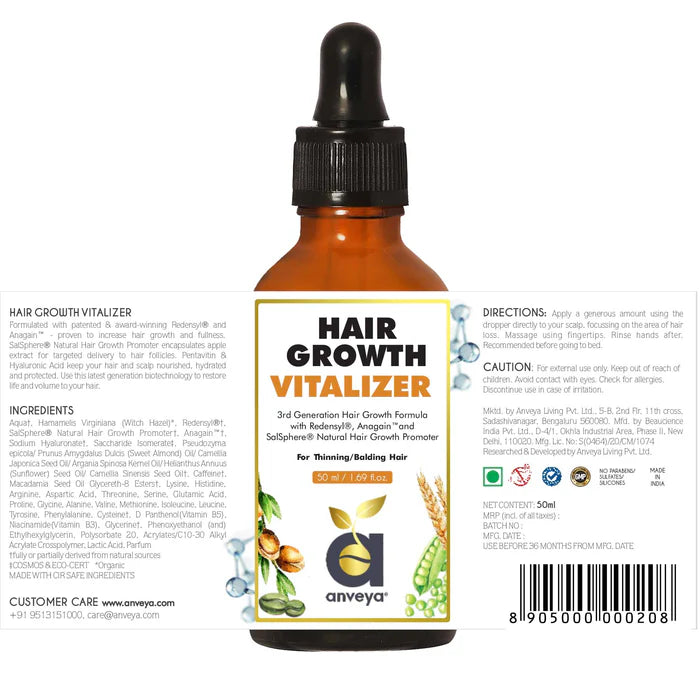 Anveya Hair Growth Vitalizer Serum, 50ml, for Hair Fall, Thinning Hair - Men & Women
Formulated with patented & award-winning Redensyl® - proven to increase hair growth and fullness.
BENEFITS OF HAIR GROWTH VITALIZER
ACTIVATES HAIR STEM CELLS to begin a new growth phase for the hair
AWARD-WINNING, Patented hair growth ingredient Redensyl®, Clinically tested and backed by SWISS SCIENCE
POTENT, 2X better results than MINOXIDIL

SalSphere®  natural hair growth promoter is a 100% NATURAL and REVOLUTIONARY ingredient that contains purified & concentrated apple extract. It is backed by clinically proven results to effectively target the hair follicles for BETTER & FASTER GROWTH with IMPROVED HAIR DIAMETER. 

AWARD-WINNING Anagain is an organic pea sprout extract that REACTIVATES HAIR GROWTH and REDUCES HAIR LOSS significantly.

Argan oil, Hydrolyzed wheat protein & Green Tea extract help keep your hair and scalp nourished and REDUCE HAIR LOSS
A Breakthrough in Biotechnology to RESTORE HAIR LIFE & VOLUME
12 MONTHS PACK
NEVER RUN OUT. GET 12 BOTTLES FOR THE PRICE OF 6.
THAT'S 50% OFF.
ADD TO CART
What Happens When You Use Anveya Hair Growth Vitalizer
What Happens When You Use
Anveya Hair Growth Vitalizer
CONFIDENCE RULES THE WORLD.
CONFIDENCE RULES THE WORLD.
TAKE CONTROL OVER YOUR HAIR LOSS.
Confidence wins us many things.
That date.
That job interview.
That moment of fame.
That feeling of invincibility.
Even simply that selfie with a hundred likes.

Sometimes all we need to take over the world is That GOOD HAIR DAY.
BACKED BY SWISS SCIENCE

Redensyl ®
Inspired from regenerative medicine, with 3 years of fundamental research and 2 patented molecules, Redensyl is the BEST HAIR GROWTH INGREDIENT in the history.

A product that works on human HAIR STEM CELLS!

Real hair loss happens when hair stem cells stay asleep in the scalp. Redensyl wakes up the hair stem cells to generate a new growth phase of all the hair. It acts as a MOLECULAR SWITCH TO TURN ON THE HAIR GROWTH again.
SALSPHERE® NATURAL HAIR GROWTH PROMOTER (SS NHGP)
GROUNDBREAKING PROPRIETARY TECHNOLOGY
It is an all-natural solution with unique proprietary submicron spheres that deliver functional botanicals directly to the hair follicles to promote hair growth and fight the signs of ageing.
USPs of SS NHGP:
- This advanced hair technology is made up of concentrated & purified apple extract (procyanidin B2) which is stabilized through encapsulation.
- It ensures the penetration of encapsulated procyanidin B2 into the hair follicles for effective hair growth results in a short period of time that is backed by clinically proven results.
- It is not associated with any side effects like itchiness, pain, dryness or scaling of the scalp.
The functional ingredient procyanidin B2 oligomer, found in the skin of green apples, is backed by clinical studies to boost hair growth and improve hair diameter. It prolongs the hair growth phase and reduces the rest phase of hair follicles.

ANAGAIN™

STIMULATING HAIR GROWTH AND FIGHTING HAIR LOSS
An Organic Pea Sprout Extract to Rebalance the Hair Life Cycle. Based on sprouts of organic pea, AnaGain™ reduces hair loss by inducing dermal papilla cells to REACTIVATE HAIR GROWTH.

Hair Loss is linked to an imbalanced hair growth cycle. Clinical studies show AnaGain™ to activate, in the dermal papilla, specific SIGNAL MOLECULES which are required to initiate the growth of a new hair.
2X better results than Minoxidil
Outstanding Clinical Results
Visible Results only in 84 days
Redensyl gives an average: +10,000 new hairs in less than 3 months, with up to +28,200 new hairs
with Nature's Most Powerful Hair Growth Secrets
HOW TO USE
Apply a generous amount using the dropper directly to your scalp in the area of hair loss. Massage into scalp using fingertips. Rinse hands after.

We recommend applying the vitalizer before going to bed as that gives the serum enough time to work as you sleep.

While trials have observed the effectiveness of Redensyl over a much shorter period as well, it is recommended to use it over a period of 3 months for significant results.
"
Redensyl is the newest breakthrough against hair loss and the best alternative to hair transplantation.
Dr. Sajeev Kumar
MADE WITH EXPERT CARE
TOP TIPS
HAIR GROWTH VITALIZER
Is hair loss your major concern? Redensyl is the best hair growth ingredient because it promises hair regrowth and is supported by research to prove its efficacy.
Read More >
Say goodbye to Bad Hair Day With a wonderful hair serum in your kitty. Hair Serum gives your hair that extra bounce, nourishment and shine.
Read More >
Redensyl is a novel hair growth ingredient that promotes healthy hair growth without any side effects. It reduces the hair fall and enhances the hair density. Learn all about Redensyl and its benefits.
Read More >